Test Variants
The Test Variants
At least two (more may come to light) variations of the Fireball have been tested over the years.
The photo below shows Bill Kempner sailing FB902 single-handed from a sliding seat (International Canoe-style). Bill took 'Schizo' to the 1965 IYRU Single-Handed Trials but, in the event, was unsuccessful.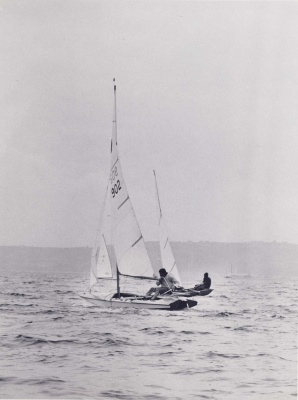 Bill Kempner sailing FB902 'Schizo' photo: courtesy David Henshall
Many years later, GBR14483 (the Winder plug) was temporarily converted to an asymmetric rig. It is hoped a photo will be available to be posted soon.