Gilly & Shandy win the HISC GUL Golden Dolphin!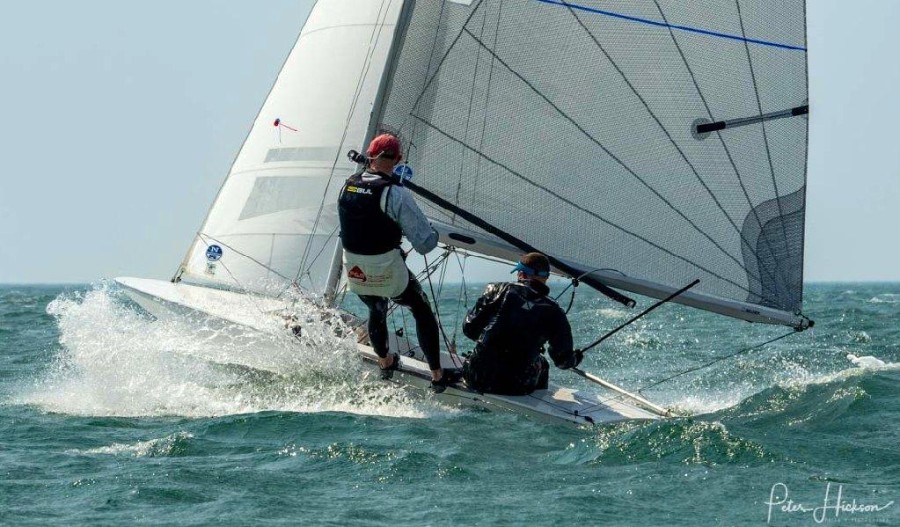 Because of the windy forecast, the Race Officer made an early call to only sail one race on Saturday. Sunday's forecast was looking lighter so 3 races would be held then.
Only 5 Fireballs took to the water - all of them visitors - with the HISC members deciding to sit it out until Sunday. All 5 boats completed the race and returned to shore to spend the evening talking about that one race. Tom Gillard & Shandy took the win followed by Dave Hall & Paul Constable, Kev Hope & Andy Stewart, Barry Smith & Ricky Spring and Rupert Smith & Christ Turner.
It was still windy on Sunday morning for race 2, but one more visitor and 4 HISC boats decided to brave it. The wind started moderating for race 3 and by race 4, teams were on full power settings. Gilly and Shandy took the open meeting win with straight firsts (discarding their 3rd), Dave & Paul were second with a 1,2,2. Barry and Ricky won the Silver fleet having a devil of a day on Sunday (6,6,6!). The Bronze fleet was won by Tom Thirketle & Tom Payne.
All in all, a great event to start off the sea sailing season.
A huge thanks to GUL for providing generous vouchers to the winners! Also to HISC for laying on yet another great event - we'll be back at the start of July so the 60th Anniversary Celebrations.