Training Weekend a great success!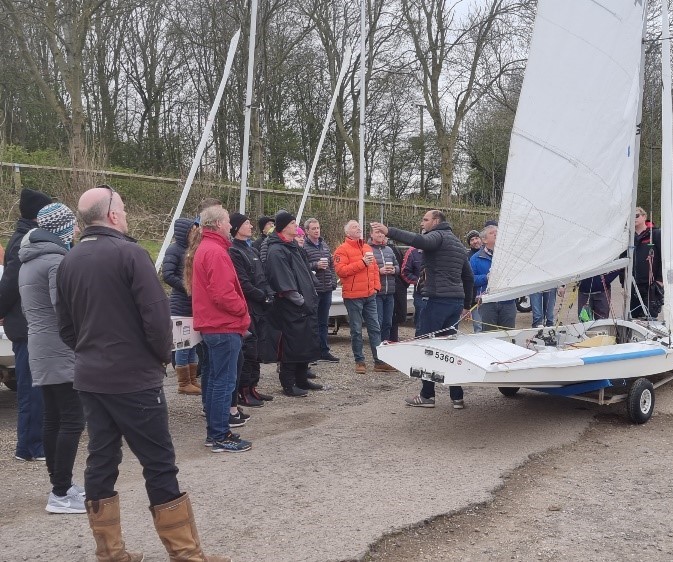 UK Fireball Association Sponsored Training Weekend at Draycote Water Sailing Club, 2nd & 3rd April, 2022
Report by Richard Botting.
If you want something to happen, at a venue that suits you, then the best thing to do is to organise it yourself, and so, with this in mind I offered to the UKFA to organise a weekend training event at Draycote Water, a good central location, early in the sailing calendar.
I also knew exactly which coaches I wanted for the event:
Adam Bowers, whose exuberance and presenting style is infectious – and what he hasn't won isn't worth writing about
And
Richard Anderton, multiple Worlds, European and Nationals winning Fireball crew.
In order to ensure that the coaches were able to address everyone's needs a questionnaire was sent out to all 13 registrants to gauge their experience and strengths and weaknesses. This set the topic for the weekend: COMMUNICATION
The forecast for the weekend threw some challenges until it settled for each day with a no wind morning but a breeze building in the afternoon. Perfect conditions for training as you can take the class room time required during any training.
So Saturday started as forecast, with a stunning morning and no wind. 12 boats and 24 sailors gathered (1 boat sadly lost to a positive Covid test) to hone their skills and knowledge from Adam.
About an hour was spent in the "classroom" with Adam imparting his wisdom as to how to Communicate and how this will achieve the groups' collective goal – do better!
After a briefing for the first water session we launched for some short 2 lap windward/leeward racing that Adam videoed. A debrief at lunch and then out for more practice racing honing those skills. We came off the water around 5pm, tired but eager for more on Sunday.
Comms to the "B" of Bang is so important!
Sunday dawned, sunny but cold as the temperature dipped to -4°C overnight and no wind to start with. For Sunday I had asked Richard Anderton to join us to be able to impart a perspective from the crew's side and so we wrapped up and moved outside to look at crew improvements in the boat.
After gaining many insights, and some things we wouldn't tell our best friends, we took to the water for a further session of short course Windward/Leeward racing. In a 2 lap 10 minute race it's so important to get every aspect right and that repetition hones those skills.
We came off the water, packed up and after a further debrief thanked the UKFA, Draycote and of course, our coaches.
Would I do it again – oh yes. Will I organise it again next year – oh yes. Did we learn anything? Oh yes: We learned that sometimes it is faster to go slower, and sometimes you don't want water at the mark. Also there are times when you want to lean the boat over a bit. Plus some stuff with the telltales and the string. All highly technical, and very valuable.
Most of all, remember the other boats are there to spoil your day and the next mark is the key to your success!
Finally, a huge thank you to the UKFA who under-wrote the cost of the weekend by 50%.
Photo shows the group around a Fireball with Adam waving his "fickle finger of fate". Richard Anderton in the foreground.
And from UKFA - A huge thank you to Richard Botting for organising the event!