Gul Brightlingsea Nationals Update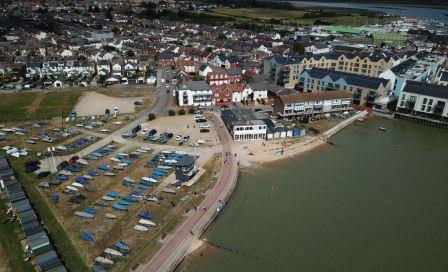 Just letting you all know that we had a great meeting with the Brightlingsea organising committee last night – it's going to be a good one!!
The club is adding more accommodation options to its website as they become available: https://www.sailbrightlingsea.com/directory. Remember it's a Bank Holiday so don't leave booking your accommodation to the last minute! There are two options you may not be aware of…
The club has secured use of a temporary campsite on a playing field that is just 6 minutes' walk from the club. This can be used by tents, caravans and camper vans. There is a basic toilet block and a water supply so you can fill up containers, but no showers or electricity, so you'll need to shower at the club. It'll going to cost around £40 for the long weekend (you can use it from the Wednesday night) and you'll be able to book your spot when entry opens.
An accommodation area you might not be aware of is at Point Clear, just across the river from the club. There's a regular ferry during the day between Point Clear and Brightlingsea: https://www.brightlingseaharbour.org/boat-trips-foot-ferry/brightlingsea-ferry-point-clear-east-mersea/ and the club is working on options to secure a ferry service to get you back after the evening social.
Racing starts on Thursday 2nd June through to Sunday 5th June, but the club is open for registration, measurement, drinks and snacks from Wednesday 1st.
The plan is to have the NOR and entry open by the Dinghy Show (26/27 Feb). Come and visit us on stand C56 and we'll aim to answer any questions you might have on the Nationals and all the other events we're holding in our 60th Anniversary year.