Gul Inland Nationals 6/7 Nov at Chew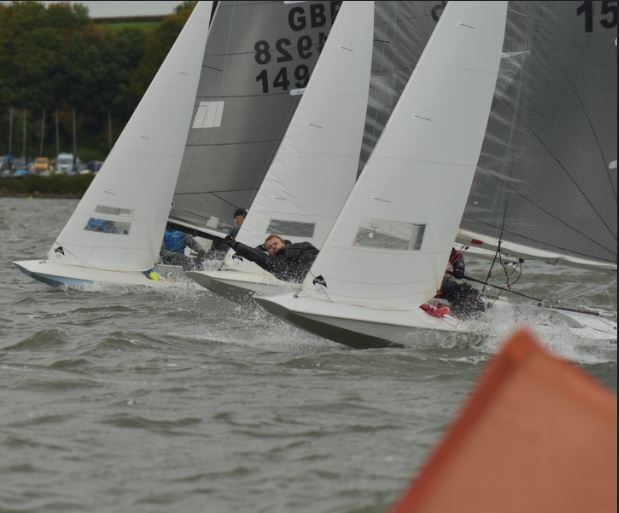 Sailing Instructions:
https://www.fireballsailing.org.uk/docs/p1fjl2l0i7t071gaoqq51ijqf023.pdf
Schedule
Saturday 6th Nov
Racing
Briefing: 11:30
1st race: 12:30
Plan for 3 back to back races.
Eating
Around 18:00: 2 course evening meal (meat and veggie options, cost £10/head). Please book when you enter online if possible. Extra tickets can be purchased on the day. See below for Saturday night's menu ...
Party night!
One of our sailors is celebrating a big birthday this weekend!!! After the evening meal, we'll be keeping the bar open for socialising.
Sunday 7th Nov
1st race: 10:30
Plan for 3 back to back races.
Food will be available before and after racing on both days.
Eligibility
Competitors are required to be a member of the UKFA. Both helm & crew need to have a minimum of Local membership (£8 / person). Details on how to join the Association are here: https://www.fireballsailing.org.uk/index.asp?selection=membershipinfo
Sponsorship
We're pleased to let you know that Gul has agreed to provide prizes for this event for the Gold, Silver and Bronze Fleets. We also have a voucher for £50 off boat insurance from UKGlobal (who offer discounted insurance rates to UKFA members).
COVID - ACTION REQUIRED BEFORE THE EVENT
COVID hasn't gone away and cases are rising. We ask everyone coming to the event to do a Lateral Flow test before leaving home as we really want to make sure everyone is safe.
ENTRY
Entries entries should be made in advance through the Chew Valley Lake SC website. Event entry is £35. Event entry plus Saturday social including 2 course evening meal for helm and crew is £55.
Camper Vans may stay on the club site overnight on Saturday evening subject to prior arrangement with CVLSC - please complete the form on the entry page.
Evening meal on saturday night:
Slow cooked Beef Stew:
Tender beef, slow cooked with vegetables and fresh herbs in a red wine sauce. Served with chunky chips and fresh salads.
Thai Green Vegetable Curry - Suitable for (V, VG, GF):
Butternut squash and a variety of vegetables in an authentic, fragrant sauce with flavors of green chili (not too spicy!), lemongrass and coconut. Served with rice and fresh salads.
Dark Chocolate Mousse Cake - Suitable for (V, GF) contains almonds:
Indulgent and fudgy dark chocolate cake served warm with a Chantilly cream
Strawberry Cheesecake - Suitable for (V, GF):
Light and fluffy cheesecake with fresh strawberries and served with a raspberry coulis
V - vegetarian VG - vegan GF - free from ingredients containing gluten
Allergens - Should you have any food allergies, please let the caterers at Chew know beforehand so a full list of ingredients can be provided if needed. Where we have used the terms 'free from', please note, that due to the open nature of the kitchen, we cannot guarantee zero cross-contamination. All food is made in an environment where nuts are used.