Fireballs at the Tiger Trophy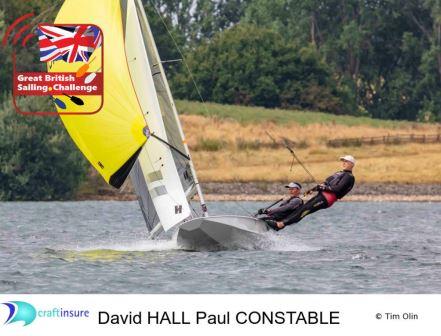 The delayed Tiger trophy was eventually held over the August Bank holiday weekend. Usually held in February – often the coldest winter event it was very strange to travel to Rutland in the summer. However, Rutland did its best to make it as similar as possible with an uncharacteristically cold damp Northerly wind.
Three Fireballs took part, Tony Godwin & Charlie Pows from the home club, Dan Johnson & Ben Latham and ourselves. It was Dan's first sail back in his Fireball since his horrific bike / car accident.
The Northerly wind from over the dam and picnic area was unstable to say the least and gave plenty of opportunity for some big gains and losses. Looking at the strength one would have been forgiven to think it was not Fireball weather. But the odd strong gust and the long legs helped the fast boats to sail to their PN. It also helped that the Great Lakes Handicap committee have agreed to not adjust the numbers for the Fireball, 505, Merlin and Scorpion reflecting the talent in those classes.
It was a very enjoyable weekend – especially as we won! Dan & Ben came in at a very respectable 7th with Tony & Charlie just behind.
Full results are here: https://enter.sailracer.org/eventsites/content.asp?eventid=219052&id=48230&templ=219052
Report by Dave Hall