Paignton SC Open Meeting 19/20 Sept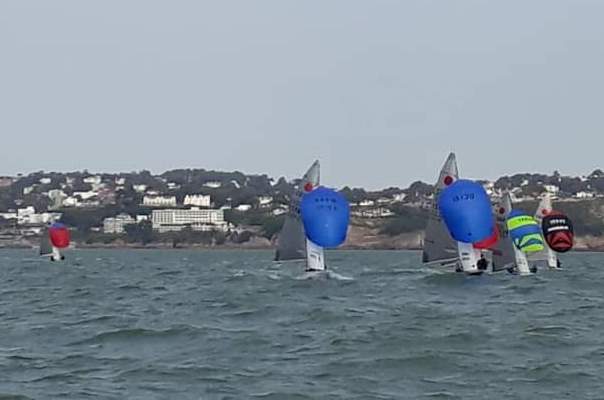 Fireball Open at Paignton Sailing Club
Six Fireballs braved a "challenging" looking forecast and arrived at Paignton Sailing Club on Saturday 19th September for the first Fireball event of 2020. They were greeted with an exceptionally friendly welcome, superb facilities, strong easterly wind and swell in the harbour.
Following an hour's postponement to allow for safer launching, the Paignton safety team successfully launched the Osprey and Fireball fleets into Torbay onto a fantastic large course set by Race Officer, James Ripley. With a large swell and winds of between 15 and 20 kts, three exciting races took place.
Race 1 was a close affair with all boats arriving at the top mark in very close proximity. Simon Kings and Jono Loe ultimately triumphed with Dan Johnson and Ben Latham 2nd and locals Elaine and Graham Slater 3rd.
Race 2 saw Matt Curell and Harry Odling arrive at the top mark first and power away downwind opening a good gap with great boat speed, which they maintained throughout to take the win. Dan and Ben were 2nd with Simon and Jono 3rd.
Race 3 was sailed in the windiest conditions of the day with the lighter crews overpowered but still competitive. Simon and Jono prevailed, with Dan and Ben 2nd and Antony and James Willcocks 3rd.
Sunday saw glorious sunshine and lighter easterly winds, but the residual swell and spring tides made launching a challenge again. The Paignton team overcame the unusual conditions with great style by pulling the majority of both fleets off the slipway upwind to allow them to safely leave the harbour for the day's racing.
Race 4 saw the red and blue spinnaker of Chris Thorne and Doug Byatt appear first at the windward mark, closely pursued by the rest of the fleet. By the second lap the race had become a very close tactical downwind battle between Anthony/James, Simon/Jono and Dan/Ben, which the Willcocks's won with Dan and Ben 2nd and Simon and Jono 3rd.
With the discard coming into effect, it was all to play for in the final race. In the dropping winds, Dan and Ben got a good start and they maintained their leading position to take the win. Anthony and James were 2nd with Matt and Harry 3rd .
With four 2nds and a win in the last race, Dan Johnson and Ben Latham were winners of the event, with Simon and Jono 2nd and the Willcocks's 3rd.
The event concluded with a socially distanced prizegiving in the bar.
A massive thank you to Paignton Sailing Club and the race and safety teams, for overcoming both the challenges posed by the Coronavirus pandemic and some unusual launching conditions, to provide 5 great races in beautiful Torbay.
Report by Dan Johnson and Ben Latham
Photos courtesy of Andy Probert/Paignton SC