Final 2019 Gul Fireball Golden Dolphin Event at Chew Valley Lake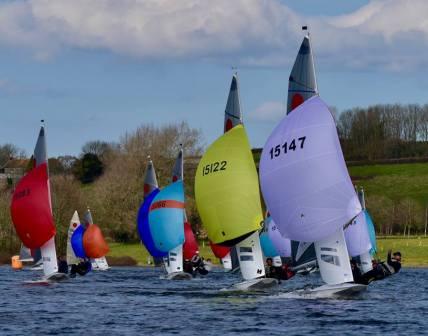 You couldn't wish for a more picturesque setting for the final event of the 2019 Gul Golden Dolphin Series which is being held at Chew Valley Lake on 12/13 October.
Gul is continuing their fantastic support to the UK Fireball Association through sponsorship of this series, with prizes awarded to the top 3 positions in each of the Bronze, Silver and Gold fleets, as well as overall prizes in the series (again distributed through the fleet).
Brightlingsea's Pete and Tom Kyne are narrowly leading the series, with last year's winners Kev Hope/Russell Thorne and Dave Hall/Paul Constable tied, just 1 point behind. But with 6 races planned for the weekend, there's scope for any of Isaac Marsh/Ollie Davenport, Paul Cullen/Simon Forbes, or Dan Johnson/Ben Latham to get on to the podium. Ian Dobson will be representing the Fireball Fleet at this year's Endeavour Trophy so won't be able to challenge for the overall title.
The briefing on Saturday will be at 12.15 with the 1st race starting at 13.00. On both days the intention is to sail the races back to back. Click here for the NOR. Rob in the galley (once a Fireball sailor himself) will be serving a variety of food and drink on both days.
Although this is the last of the Golden Dolphin events, we still have the Gul Fireball Inland Nationals to look forward to at Draycote Water in November.
Remember, to qualify for the Golden Dolphin Series and to be eligible to win the Gul vouchers, competitors must be members of the Fireball Association. Membership requirements are defined on the UKFA website.
Photo by Errol Edwards