Fireballs at Weymouth Dinghy Regatta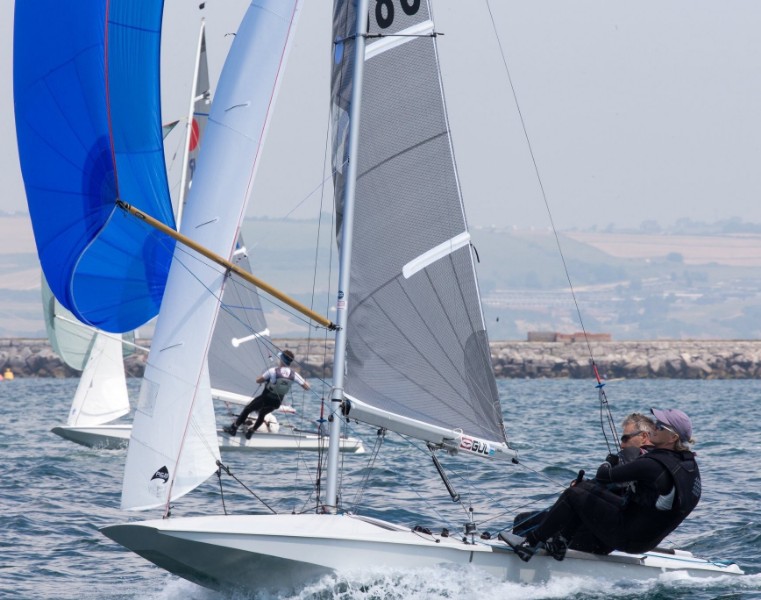 11 Fireballs took part in this year's Weymouth Regatta and were treated to beautiful warm sunny weather and light winds varying 4 – 9 knts. Castle Cove Sailing Club hosted the event and provided their normal friendly welcome and faultless race management with sailing on the Saturday in Weymouth Bay and in Portland Harbour on the Sunday.
Racing throughout the weekend was extremely close, with constant place changing throughout the fleet, especially on the Saturday as there were large shifts and variations in pressure. Interference between fleets was always going to be an issue with 90 boats sailing around different courses, but this worked pretty well for the most part, albeit you always had to be wary of the different sailing angles of the asymmetric boats and the sheer size of the Osprey rig, especially around the leeward mark where all the fleets converged.
Whilst Anthony & James Willcocks sat pretty at the top of the leader board following the Saturday racing, the winner of the series was to be decided on the last race between Allan/Chris Tyler, Martyn/Daniel Lewis & the Willcocks twins. The Lewis boat rounded first, closely followed by the Tylers with Chris Thorne 3rd after a superb port tack start. After a number a place changes around the course it was the Tylers who crossed the line first by about 1ft to win the series.