Gul Fireball National Championship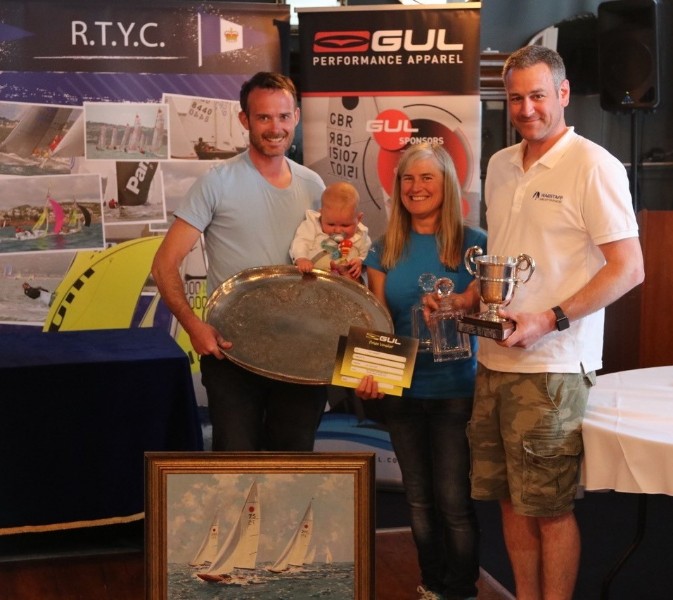 Torbay dealt up its most challenging conditions for the final day of the championship. A North Westerly wind blowing out of both the town of Torquay and occasionally out of Paignton. Not only varying in direction it also changed in speed from 5 to 20 knots. It was going to be an interesting final day for the potential champions.
There was a short delay while the race team waited for a window to start the first race of the day. Once the fleet got away it was anybody's guess which side the wind was going to favour, as a result there were boats making huge gains and then losses. Dave Wade and Richard Pepperdine led round the first mark closely followed by Martyn Lewis & Richard Byne. In the much changing conditions Martyn & Richard passed Dave & Richard to take the win. Ian Dobson & Richard Wagstaff recovered well to come in third with Matt Burge & Dan Schieber – their nearest challenger swallowed up in the pack.
So, for the last race it was a cat and mouse as Ian & Richard chased Matt & Dan around the starting area. The conditions very similar to the first race of the day with once again much place changing all through the race. Christian Birrell & Vyv Townend showed they still had it to put in a second place but it was Ian & Richard who went on to win the race and as a result the Championship.
A big thank you to Royal Torbay YC who ran an excellent event both on and off the water. Also to our sponsors – Gul, Hyde, North, Global Insurance and to the UKFA committee.
Bronze fleet
1st Roger Etherington & Dave Pannell
2nd Pete Badham & Steve Digby
3rd Andy Robinson & Phil Popple
Silver fleet
1st Jack Grogan & Will Sargent
2nd Georgia Booth & Sam Platt
3rd Keith Walker & Nick Rees
1st Lady Helm. Georgia Booth
1s Lady Crew Christina Tyler
1st Under 26 Helm Issac Marsh
1st Under 26 Crew Ollie Davenport
1st Master Helm Vince Horey
1st Master crew Vyv Townend
1st Grand Master helm Dave Hall
1st Grand master Crew Russell Thorne
Perseverance trophy Jane and Patrick Collison
Toby Hamer Trophy Dan Johnson & Ben Latham