Day 1 at the 2017 European & UK National Championships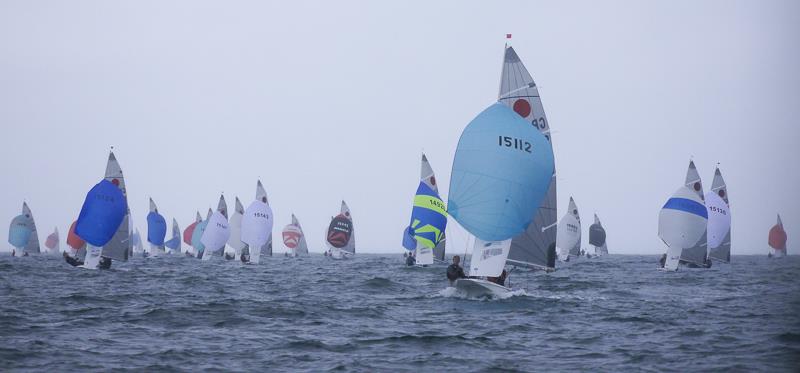 A still morning with virtually no wind greeted the 85 Fireballs at Lyme Regis for day 1 of the FB European and National Championships.
The fleet got afloat and onto the race course to find a building westerly breeze of around 10 knots.
After the 1st general recall, the PRO Peter Baldwin had no option but to raise the black flag. The tide wasn't helping and in shifting conditions there were 4 further general recalls and 4 postponements. Eventually the fleet got away for race 1 missing around 20 boats who had all be caught OCS in the previous starts and had gone ashore for coffee and cake.
The promising breeze took that very moment to die a death and the 1st beat was long, lengthy, lumpy and shifty. Gradually it built back to sailable pressure, allowing the boats to drive through the chop left by the previous days winds. David Sayce & Nick Rees of Hayling Island sailed really well to take the gun. A well deserved victory and one that proved very popular with the crowd in the event marquee later in the evening. As the European championships are running concurrently with the UK Nationals, they take home 2 trophies, the Swiss Cowbell for the Euros win and the Hunstanton District Council Trophy for the Nationals.
Having seemingly learnt their lesson, the second race got away 1st time and it was Ian Dobson & Richard Wagstaff in the Weathermark boat who enjoyed the spoils of a breezy 1st beat after winning the pin end. They headed left with Matt Burge & Dan Schieber along with Dave Wade & Ben McGrane and this paid strongly. On the second beat there was some pressure from new pairing Tom Gillard & Geoff Edwards who romped up to overhaul the pack but not the leaders. Dobson & Wagstaff went on to take the win with Gillard & Edwards 2nd and Burge & Schieber 3rd. By now the conditions had now gone from slightly breezy to full on windy with big waves and despite the big shifts making the top reach too tight to kite and the bottom reach too broad to fly, the fleet enjoyed some great racing in testing conditions.
With the rain lashing down the fleet convened on the marquee for a BBQ and prize giving. There were multiple spot prizes courtesy of key sponsors Gul and Allen, a "Halo" award for kindness sponsored by Hayling Island SC and won by Sophia Benson for her brave actions on the practice day. There was also the customary "Dork of the Day" award, sponsored by Otter brewery and awarded for gross underachievement. The lurid green jersey will be worn all day today until the mantle is passed onto the next worthy recipient at Mondays prize giving.
Sunday has thrown just about every conceivable sailing condition at the sailors. Lets see what day Monday brings.
Words Andy Robinson
Race Photos credit Pauline Rook
Prize Photos credit Aga Robinson