Fireball Inland Championships 2009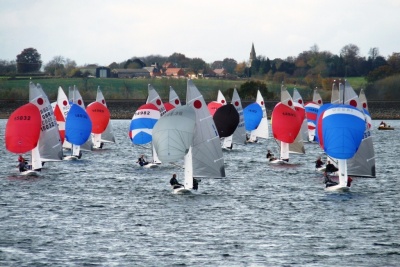 Sponsored by Pinnell & Bax and North Sails
Photos Photos2 Photos 3 Photo Gallery
It really was a weekend of two halves at this year's Fireball Inland Championship held at Draycote Water Sailing Club over the weekend 31st October/1st November.
Forty-six boats were greeted with gentle force two and after numerous starts the Race Officer Richard Pye had no choice but to start the fleet under a black flag, sending many of the usual front runners back to the shore.
At the first mark Matt Findlay and Richard Anderton in their new boat held a narrow lead ahead of local hero Martyn Lewis and Richard Byne and Dave Wade with new crew Simon Wheeler. Following a tussle around the course it was eventually Findlay ahead of Wade with Peter Gray/ Simon Forbes climbing to third.
The second race saw a reversal of the top two with Lewis and Byne taking the 3rd spot after climbing through the fleet. Kevin Hope and Russell Thorne ever consistent were 4th.
The final race of the day was quickly sailed due to the fading light and a prompt start caught many of the fleet off guard and a significant shift saw a number of boats being caught out by the dreaded black flag. Mark Maskell reunited for this event with his brother Simon, made the most of the first beat and never looked back, they were followed home by Lewis (sailing his 15 year old boat) and Kevin Hope and Russell Thorne.
Saturday night was Caribbean evening. Competitors were treated to an interactive presentation on the 2010 Fireball World Championships to take place in Barbados next May. Those who had already seen the presentation went straight to the rum punch and enjoyed dinner to the sounds of steel band, not your usual saturday night entertainment at a sailing event in November.
For more information on the 2010 Worlds visit www.fireball-worlds.com
Day two and what a difference, the fleet launched to a fresh breeze which increased steadily through the day. Vince Horey and DC made the perfect start and tried to lead the fleet around the wrong course.
Thankfully Andy Smith noticed that the course had a hitch mark and sailed on to a comfortable first place, with the wind increasing the fleet struggled around with 42 knots being recorded only ten boats managed to finish.
A third race was undertaken after the rescue crews had retrieved the numerous boats from the shore. Seven of the hardest sailors managed to finish this race with Andy Smith using his weight to great advantage by dropping the lever to the knot and setting the boat free. Wade and Wheeler added another consistent result in second followed by Lewis and Byne.
A surprised and dwindling fleet endured another hardcore race with numerous capsizes and too much wind to safely fly a spinnaker, it was only the hardest or stupid sailors of the fleet left sailing. Lewis and Byne kept their mast upright and showed mastery in their boat handling to secure the race followed by Smith, Hope and Wade.
The fourth place was enough to secure the event for Wade and Wheeler in a boat which had been finished on Friday night. Completing the results was one of the oldest Fireballs still racing no 11. Owner Greg Byrom taking a rare opportunity to get out on the open circuit before he returns to New Zealand. Greg wisely turned photographer on Sunday!
Thanks must be given to the sponsors of the event P&B and North Sails and all the organisers at Draycote Water Sailing Club.
1st Dave Wade and Simon Wheeler 15032
2nd Martin Lewis and Richard Byne 14226
3rd Kevin Hope and Russell Thorne 14950
Silver fleet
First, 14889 Adam Broughton and Marisa Foster, King & Queen SC
Second, 11897 Colin Snowdon and Karen Hiles, DWSC
Bronze fleet
First, 14216 Paul Anthony and Richard Glen, DWSC
Second, 14268 Nick Hurst and Ben Fjaerman, Shorham SC
1st Youth (under 21), 15016 Peter and David Slack, Staunton Harold SC
1st Classic Boat, 14226 Martyn Lewis and Richard Byne, DWSC
Interested in trying out a Fireball for your self?
The latest try a Fireball Day is this saturday 7th November at Staunton Harold Sailing Club. For more details see the Fireball Website. www.fireballsailing.org.uk