Virtual Dinghy Show a Success!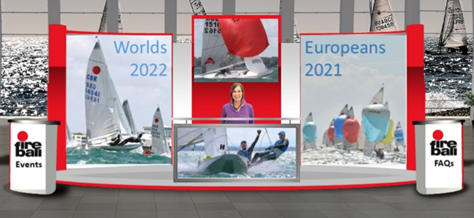 Well, it was weird, but also successful! Not the same as seeing people in real life, but the reach of the dinghy show went much further than usual. I hope you enjoyed it.
We've had some stats through for our booth from the weekend (apologies to those of you who aren't stat geeks like me!):
We had 680 unique visits to the booth (some people came back multiple times) – 13% of the total visits to the show!
All of the documents we had on the site had a lot of views. Those connected with the Weathermark & Winder layouts and the specs and prices for new boats had the most hits (in the range 64 – 78).
It looks like there's a decent amount of interest for the Italian Europeans and Aussie Worlds with those documents being viewed almost 70 times.
Our 2021 UK Fireball Promotional Video had an incredible 147 viewings! Thanks to Lucy and Rick Cornes for putting the original video together and to Steve Goacher for some magic insertions (with maps!!) giving up-to-date information on events. We also had lots of chat about the Why Fireball video produced by Andy Robinson. In fact, all the videos except one received over 70 viewings as a minimum. Unfortunately, there was a broken link to the Fireball Overview by Richard Parslow. We raised a tech support issue which sorted the issue, but only at the end of Sunday.
To add icing to the cake, the Dinghy Show included a presentation by David Henshall, entitled 'Seven Dinghies for Seven Decades'. The winner for the 1960s was Fireball 'that caught the zeitgeist of the sixties'! Some great footage and wonderful comments from David may be found here with the Fireball footage starting at around 12:50. As David says, on a breezy day with sun there is no boat quite like it!
You can still access the Fireball booth to view our documents and videos until the end of March. You can also access all the talks put on by the RYA on demand. The live chat facility is closed, but you will be able to contact us directly by email. It looks like registration is still open through this link: www.dinghyshow.org.uk.
Next year's show at Farnborough will be on 26th & 27th February 2022 – put it in your diary now!