Ian Dobson & Richard Wagstaff 2018 National Champions!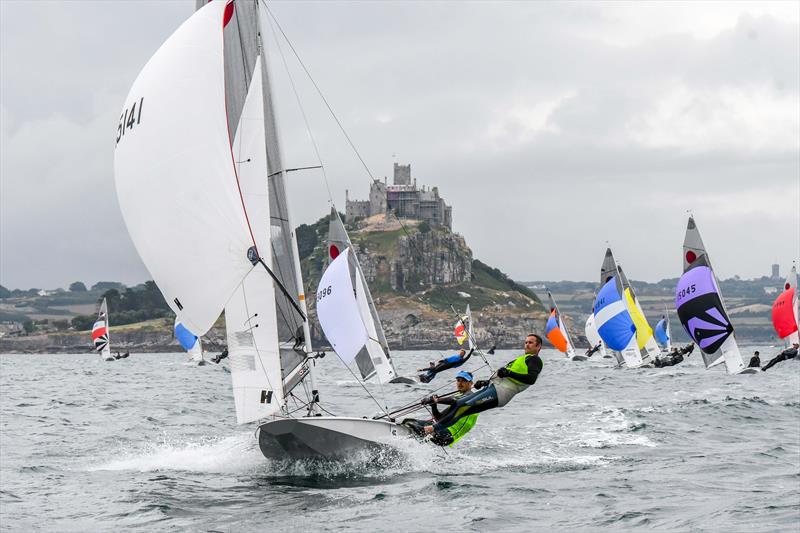 We were promised an increasing breeze early on in the day for the final races of the Gul Fireball Nationals. But as usual the forecast was not very accurate and the fleet that was hoping for an early start to play catch up was held on shore. Eventually, enough wind arrived to get everyone launched and to the start line to wait for the magic five knots to arrive.
After one false start the first race got away in the gentle breeze that did have a hint in the sky that it may increase. Ian Dobson & Richard Wagstaff were straight out of the blocks and into the lead making sure that the title did not slip out of their hands. They held and extended their lead to the line. As the wind faded into the finish they were followed in by Heather & Chris Payne and Isaac Marsh & Keiran Graham.
The waiting game then ensued while the Race committee followed the wind and moved buoys around to set up for what was to become the last race of the championship. With barely five knots on the start line the fleet took off to find a massive left shift.
Elaine & Graham Slater and Chris & Russell Thorne took full advantage of it and sailed into the distance for a while. However, Jiri Paruzek & Jacub Kosvica had gone further into the shift and went around the first mark in the lead. The race then took a turn as the forecasted wind arrived big time – albeit late and with a bigger shift.
The race team moved the windward mark catching some teams out and the fleet were treated to a final blast down the reaches to the finish. Jiri & Jacub held their lead to the finish followed in by Chris & Russell Thorne and Dave Hall & Paul Constable.
Time had run out for any further races which left Ian and Richard the clear winners of the championship counting five first places.
A big thank you to Penzance Sailing Club and all the volunteers and of course to Gul - the event sponsor with fantastic prizes and to Hyde Sails for their prizes. Plus, some great pictures from Lee Whitehead.
Overall:
1st GBR15141 Ian Dobson & Richard Wagstaff
2nd AUS15152 Heather Macfarlane & Chris Payne
3rd GBR15096 Penny & Russ Clark
Full results may be found in the results section
Category Prizes:
Perseverance -- Simon and Sophia Benson
1st Lady helm, Heather McFarlane
1st lady crew Alice Powell
1st Over 50 helm - Master Trophy Helm - Derian Scott
1st Over 50 Crew - Master Trophy Crew - Chris Payne
1st Over 60 helm - Grand Master Trophy Helm - Heather McFarlane
1st Over 60 Crew - Grand Master Trophy Crew - Graham Slater
1st Helm under 21 - Dan Johnson
1st Crew under 21 - - Tom Goacher
Classic boat Trophy - 13944 Dan Johnson & Ben Latham
Toby Hamer Memorial Trophy- Alice Powell
McLaughin Southworth Trophy- Anthony Willcocks & James Willcocks.
1st Silver - 15038 Colin Stevens & Tom Kilskey
2nd silver - 14950 Chris & Russel Thorne
3rd silver - 15070 - Isaac Marsh & Keiran Graham
Merit Award Silver Fleet - Jono Loe
1st Bronze - 15046 - Phil & James Popple
2nd Bronze - 14388 - James Cuxon & Neil Arnolt
3rd Bronze - 14887 - Thomas Payne & Alice Powell
1st Merit Award Bronze Fleet - James Popple
Special Merit Award for MC duties - Andy Robinson