2018 Gul Golden Dolphin Series - Round 1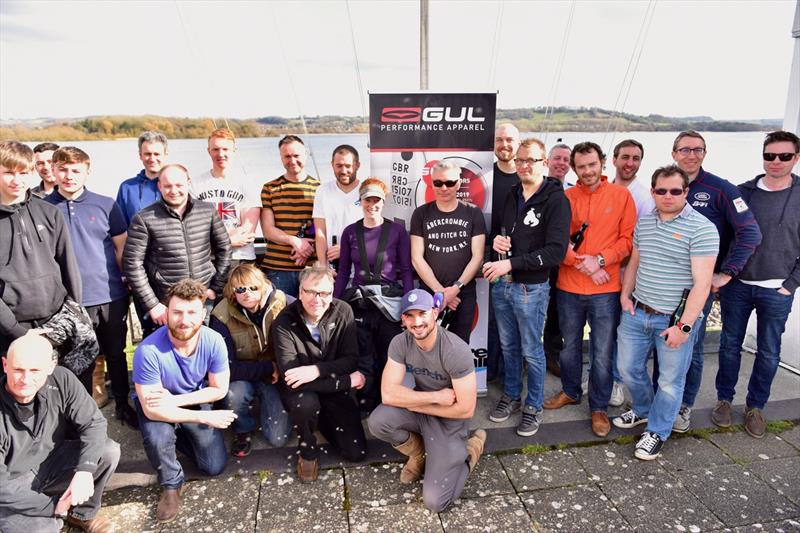 The first Open meeting for the Fireballs this year was the Gul Golden Dolphin event at Chew Valley SC. The Golden Dolphin Trophy is the class travellers prize that will be presented at the end of the year. This year sponsored by Gul with some very generous prizes.
It was certainly a weekend of snakes and ladders with five different winners over the seven-race series.
Saturday gave the fleet a very light northerly breeze wafting gently down the lake with plenty of shifts and holes. Four races were held back to back very efficiently by PRO John Smalley and his team. In race 1 Mark Maskell & Nigel Sheppard lead out of the line opening up a good lead but with Tom Gillard & Geoff Edwards on their tail. Mark and Nigel held them off for the whole race to take the first gun of the weekend. Race 2 and it was DJ Edwards & Vyv Townend who took an early lead and the race win with Tom & Geoff following in behind. For race 3 it was the team Ian Dobson & Richard Wagstaff turn to take line honours with DJ & Vyv in second. In the last race of the day it was finally Tom and Geoff's turn to cross the line first leaving them over night leaders by some margin.
Sunday promised to be a little stronger but as the sun came out the wind almost vanished. After 3 aborted starts the wind came in with some quite strong gusts – but full of shifts and some big holes. Dave Hall & Paul Constable lead the first race with Tom & Geoff on their heels. An infringement with Tom and Geoff at the last mark meant Dave & Paul had a 720 penalty allowing 8 boats to pass down the reach and leaving Tom & Geoff to go on to win. The second race of the day was won by Paul Cullum & Simon Forbes, it was a nervous finish for them with Isaac Marsh & Oliver Davenport and Dave & Paul right on their tail into the finish. The final race of the series saw Paul & Simon once again take the lead but as the wind became more and more unstable, defending a position was almost impossible and they allowed Ian & Richard through to get their second win.
In the end it was the consistent sailing from Tom and Geoff that won the weekend and the first Gul open meeting.
Silver Fleet Results:
1st Isaac Marsh & Oliver Davenport
2nd Mark & Helen Dinwoodie
3rd Chris Thorne & Lawrence Creaser
Bronze Fleet Results:
1st Maia Walsh & Peter Bentley
2nd Dan Johnson & Ben Latham
3rd Barry Smith & Ricky Spring
Overall Results:
| Pos | Sail No | Helm | Crew | Club | R1 | R2 | R3 | R4 | R5 | R6 | R7 | Pts |
| --- | --- | --- | --- | --- | --- | --- | --- | --- | --- | --- | --- | --- |
| 1st | 15127 | Tom Gillard | Geoff Edwards | Sheffield Viking SC | 2 | 2 | 4 | 1 | 1 | -8 | 5 | 15 |
| 2nd | 15144 | DJ Edwards | Vyv Townend | Bough Beech SC | 6 | 1 | 2 | 4 | 6 | -10 | 2 | 21 |
| 3rd | 15141 | Ian Dobson | Richard Wagstaff | The SMVC (?) | 7 | 8 | 1 | -10 | 3 | 5 | 1 | 25 |
| 4th | 15147 | Paul Culen | Simon Forbes | Weir Wood SC | -10 | 9 | 3 | 8 | 2 | 1 | 3 | 26 |
| 5th | 15143 | David Wade | Richard Pepperdine | Northampton SC | -12 | 3 | 8 | 5 | 4 | 9 | 4 | 33 |
| 6th | 15083 | Chris Gill | Jon Gill | Portished Y&SC | -9 | 7 | 6 | 3 | 5 | 4 | 9 | 34 |
| 7th | 15122 | David Hall | Paul Constable | Blackwater SC | -11 | 4 | 5 | 6 | 8 | 3 | 8 | 34 |
| 8th | 15130 | Dave Winder | Ben Rayner | Hollingworth SC | 5 | 5 | 10 | 2 | -11 | 7 | 6 | 35 |
| 9th | 15066 | Mark Maskell | Nigel Sheppard | Blackwater SC | 1 | -13 | 7 | 12 | 13 | 6 | 10 | 49 |
| 10th | 15070 | Isaac Marsh | Oliver Davenport | Northampton SC | -17 | 10 | 11 | 9 | 9 | 2 | 11 | 52 |
| 11th | 15133 | Kevin Hope | Russell Thorne | Notts County SC | 3 | (OCS) | 12 | 13 | 7 | 13 | 7 | 55 |
| 12th | 15107 | Richard Cornes | James Goodfellow | Hayling Island SC | 4 | 6 | 13 | 11 | 10 | (BFD) | 13 | 57 |
| 13th | 14941 | Derian Scott | Andy Scott | Chew Valley Lake SC | 8 | 11 | 9 | 7 | -12 | 11 | 12 | 58 |
| 14th | 14761 | Mark Dinwoodie | Helen Dinwoodie | Chew Valley Lake SC | 15 | 12 | 14 | 14 | 15 | -17 | 15 | 85 |
| 15th | 14982 | Maia Marsh | Peter Bentley | Blackwater SC | 13 | 15 | 16 | -17 | 17 | 12 | 17 | 90 |
| 16th | 13151 | Daniel Johnson | Ben Latham | Errwood SC | 16 | 14 | -17 | 15 | 14 | 15 | 16 | 90 |
| 17th | 14950 | Chris Thorne | Lawrence Creaser | Lyme Regis SC | 14 | -16 | 15 | 16 | 16 | 16 | 14 | 91 |
| 18th | 14889 | Barry Smith | Ricky Spring | Thornbury SC | 18 | 17 | 18 | 18 | 18 | 14 | -19 | 103 |
| 19th | 14592 | Charlie Sansom | Zoe Bazen | Bowmoor SC | (DNC) | DNC | DNC | DNC | 19 | 18 | 18 | 118 |
| 20th | 14966 | Mike Chorlton | Ben Latham | Portishead Y&SC | (DNC) | DNC | DNC | DNC | DNC | 19 | 20 | 123 |