Classic Lyme conditions for practice race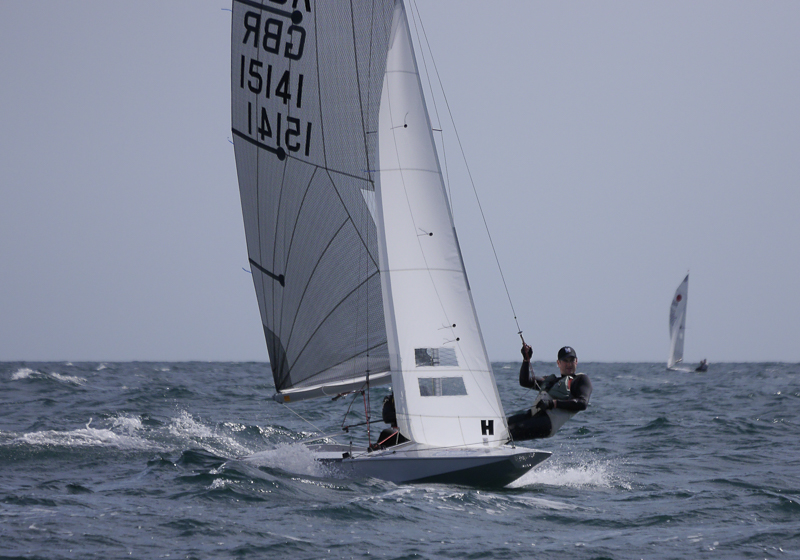 A classic Lyme Regis day awaited the 85 entries for the practice race and final day before the start of the 2017 Gulf European and National Championships. With a 2m swell running from the Southwest and a shifty 15-20knt offshore wind, there was much to learn about the venue and sailing conditions.
Lots of shiny new toys came out to play in what was the last chance to trial various developments within the class. This was duly followed by some twilight repair work.
The race committee used the time to iron out a few race management issues and following two practice gate starts, the practice race got underway from a normal line start.
It was the standard Hyde/Weathermark package of Ian Dobson and Richard Wagstaff that showed a promising turn of speed to lead from the favoured righthand side of the course, duly helped by a 20 degree righty. Dave Wade and Ben McGrane sporting the latest P&B development sails led the chasing pack, although were overtaken by Paul Cullen and Adam Whitehouse on the second beat before practicing their freestyle on the top reach. Possibly a baptism of fire for some of the many European competitors given the fresh conditions combined with a sizeable swell. The forecast for the week is moderating but sure to provide a full mix of conditions.
Later that evening the teams and their families were welcomed to the event marquee for the opening ceremony. Lyme Regis SC Commodore Jerry Rook got things started before welcoming the PRO Peter Baldwin to give the customary instructions, the Chair of the jury to remind everyone to behave and the Mayor of Lyme Regis Cllr Michaela Ellis to extend a warm welcome to the historic and beautiful town. There were cocktails and canapés provided by local restauranteur Mark Hix and the social program was outlined by Andy Robinson.
What is clear is that there will be plenty of opportunity for the many fancied runners and riders to shine or fade, in what is set to be one of the most open and unpredictable Fireball championships in recent times. Watch this space!!
Pics courtesy Pauline Rook
Words by Andy Robinson