Euros/UK Nats 'early bird' entry closing 9 April
Entry entry closes on 9th April for 2017 Gul Fireball Europeans & Nationals at Lyme Regis
by Richard Anderton today at 8:23 am18-25 August 2017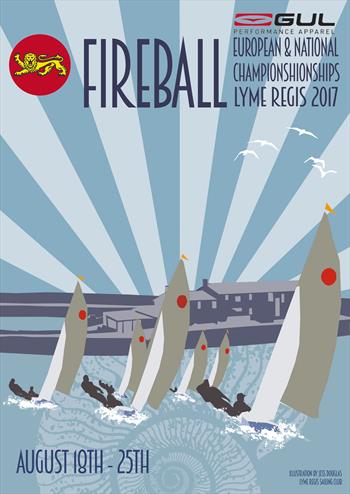 Gul Fireball Europeans and Nationals 2017 © Fireball Class
This is your last chance to enter the 2017 Gul Fireball European and National Championships before the early entry deadline passes. On the 9th April, the price rises from just £285.
Entry levels at the moment are on track for 100 boats – this will be the largest Fireball event since the Worlds in 2015, and one of the largest dinghy events in the UK in 2017. Attracting boats from all over the world – around a third of the fleet is currently international – this will again be a world class event.
The tried and tested race format of 2 races per day, over 5 days of racing with a layday is a proven winner. Lyme offers one of the best sailing venues in the country, and furthermore offers something for all the family – a large sandy beach, and plenty to see and do on the Jurassic coast. The fleet will be in full party mode on Friday for the prize giving, and hopefully Tuesday in advance of the layday.
The full race management team is in place – the international jury is lined up and ready to go, and the race team have been sharpening their eye sight in order to keep an eye on that start line!
If you are looking for a boat to charter, have a boat to charter, or would like to be involved in the event in any way at all, please drop us a line.
The event is supported by many parties – Gul, CoastWaterSports, Hyde Sails, Otter Brewery, North Sails and HISC and hopefully more to come.