Day 1 - Europeans at Brenzone, Lake Garda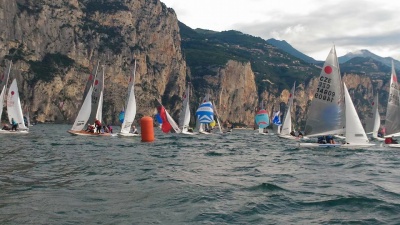 It was the Czechs who ruled the waves on the first day of the Fireball European championship. Milan Cap and Filip Prochazka posted 2 1sts in challenging conditions. The race organisers got 2 races away – one in the morning with the Northerly breeze then after a lengthy lunch break one in the late afternoon.
The wind was variable to say the least. As usual conditions are not normally like this but after some big thunder storms it seems the weather has no connection with the forecast. Consistency was the name of the game with the top few places all keeping their scores in the same area.
Racing continues on Tuesday with an 8am start which has not gone down well with the compettors.
Full results at www.myregatta.it/it/2016/7/CAMPIONATO-EUROPEO-FIREBALL