For Sale
It is free to place a classified advertisment for UKFA members. However you must login or register first before you can submit your advert.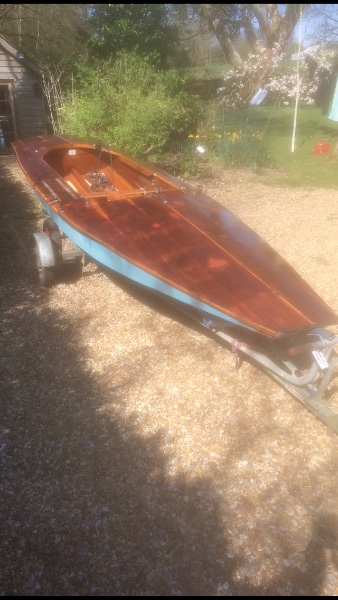 Wooden Fireball 11855
Price:
GBP£300
Classic boat in good working order. Road and launching trailer. 5 sails. On sale for health reasons.
Contact: Peter Featherstone
Email
Posted: 26/03/2017 | Expires: 23/04/2017
Boat 15081
Price:
GBP8500
Priced to sell! I don't have room for 2 fireballs on the drive, so the old one must go :-( Current National and European championships winning boat. Top spec, full Kevlar throughout - including the deck. Harken fitout, M7 Mast, North sails - T10 main, Jib, and Kite. Tacktick compass. Over and Under covers; Trolley and road base. https://www.youtube.com/watch?v=PxbtXOMzKEA
Contact: Richard Anderton
Tel (m): 07966 331325
Email
Posted: 03/03/2015 | Expires: 22/04/2017
15096
Price:
GBP8990
Top spec Winder hull with full Harken fit out by Winder Selden Alto rig (with twaron pole) and full suit of P&Bs. Top/bottom covers and combi trailer. This boat has an exceptional racing record: 4th Worlds, 2nd and 3rd Nationals, and winner of numerous opens. Fully calibrated with the settings you need to win. Garage stored when not in use.
Contact: Vyv Townend
Tel (h): 07710 753494
Email
Posted: 23/03/2017 | Expires: 20/04/2017
Fireball for sale 10680
Price:
GBP100
I have a Fireball dinghy in the garden that needs a good home. It needs some work, the cover has not been off for a while but it would be free to a deserving cause. It did lots of service to the family, my first-born particularly but all of the children really. It now needs to go to a father who can fix it for his teenagers to enjoy. There is a road trailer and I would like perhaps £100 for the trailer as it is strong with no rust and good wheels. The launching trolly has rusted to nothing. The sum for the road trailer would go to my grandson, Paul, and cadet week at Thorpe Bay Yacht Club. Peter, my first born and Paul's father, thinks that the club does not have enough Fireball sailors so the offer has not been given to TBYC. Paul was very good sailing a Pico last summer so we have high hopes. Update: "It still has all its bits and having pulled the cover off to check the number I can say that it could be sailed straight away as most issues are cosmetic."
Contact: Geoff Quentin
Tel (h): 01702 585038
Email
Posted: 14/03/2017 | Expires: 11/04/2017
Winder fireball 14898
Price:
GBP4995
Winder, full harken fitout by pinnel and bax, strut, choice of m7 or cumulus mast, hardly used, dry stores till a couple of years ago. Full Kevlar hull, Superb condition
Contact: Paul cullen
Tel (m): 07971607280
Email
Posted: 06/03/2017 | Expires: 04/04/2017
Fireball 15114 15114
Price:
GBP9750
Bought the boat new in June 2014. 4th in Shetland Europeans, 5th in UK Nationals & 10th in the last worlds. Boat has won every Irish event entered since we got it so very well set up and ready to win again. Boat specification: -Winder boat with all the Kevlar extras (Colour: Standard grey) -Harken fit out by Winder -Superspar m7+ rig -one set North sails -Winder centreboard and winder fixed rudder -Twaron spinnaker pole -New style winder trolley and road base -North covers (top cover, undercover and rudder bag) -£9,750 Happy to discuss delivery to the UK.
Contact: Conor Kinsella
Email
Posted: 05/03/2017 | Expires: 03/04/2017
winder 14800
Price:
GBP£3400.00
white winder,good condition for age.Re-fit 2015.Trailer/trolley.U/O covers.Speed/P+B sails.Cumulus.Pic,s available.
Contact: miles thomas
Tel (h): 01938 810586
Tel (w): 07983 537905
Tel (m): 07983 537905
Email
Posted: 03/03/2017 | Expires: 31/03/2017
Scam Warning
Please note we have recently had several reports of fraudulent attempts to purchase Fireballs. This normally involves initial contact which looks genuine followed by an offer to purchase via a shipping company. The purchaser seems happy to collect your boat having not actually seen it. Payment is offered by bankers draft. Needless to say once the boat is sent the draft will bounce! Avoid!
Once your item is sold, please delete the advert by logging onto the site & selecting your advert. An option to mark as sold will be presented to you. Many thanks.
It is free to place a classified advertisement. However you must login or register first before you can submit your advert.